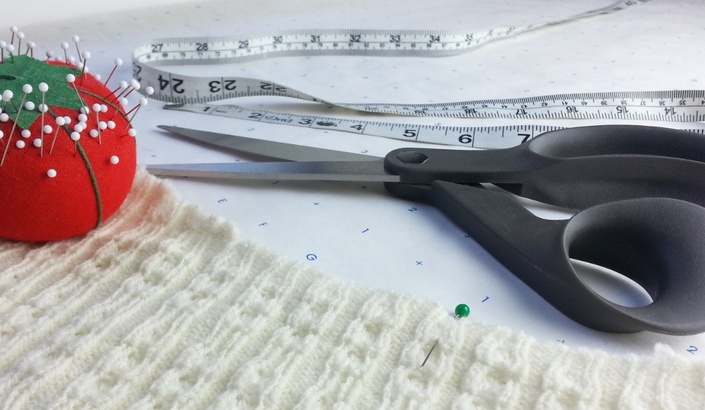 How to Cut and Sew a Sweater
Learn the techniques to cut, fit, and sew your beautiful sweater
Watch Preview
How to Cut and Sew a Sweater
Welcome to the leading online source for learning how to cut and sew sweater knits! Learn to fearlessly cut and sew these challenging fabrics, while making a pullover sweater that fits beautifully. This course is for the sewing enthusiast with intermediate skills or for the motivated beginner.

If you're a sewist who's admired the beauty and texture of sweater knit fabrics but didn't quite know how to work with them, then this online video workshop is for you. In this course you'll learn the foundation techniques for working with this stretchy and sometimes challenging fabric. Garment industry methods are translated and reworked for your home sewing environment. Step by step you'll learn the ins and outs of working with true sweater knits, while you complete a pullover sweater to wear and enjoy.
Here's what you'll learn:

How to recognize the different kinds of sweater knit fabrics and how to choose the right one for your project
A clear system for planning, cutting, and sewing your sweater with a step-by-step plan to complete it
What to consider when choosing a sewing pattern for your project and tips on modifying the pattern to create a sweater you love
A strategy for laying out your paper pattern on sweater knit fabric
How to set up your sewing machine or serger specifically for sewing sweater knits
When, where, and how to stabilize your fabric
How to handle basic fit issues
Techniques for finishing your seam allowances with a sewing machine or a serger
The basic edge finishes for sweaters
In this sweater making workshop you'll improve your sewing skills and learn ones. Once you get a solid foundation and learn the system, your creativity will be your guide. Enjoy the craft of sewing sweaters for yourself and your family. Make sweaters as gifts or for a handmade business. You can make beautiful sweaters, even if you can't knit or crochet!
IF...
You love sweaters and want to learn to make them confidently and with ease.

You're an advanced beginner or intermediate sewing enthusiast, eager to expand your sewing skills.

You're comfortable working with woven fabrics and want to learn to work comfortably with knits also.

You've sewn knits before but have never cut and sewn sweater knits.

You've started projects with sweater knits, but your seams were not as neat as you'd like, and your sweater remains unfinished.

You have a good amount of sewing experience, yet you fear cutting that sweater knit fabric you've had sitting in your stash for months.

You've made sweaters before but never get the neckline looking quite right.

You're a machine knitter, who loves knitting but wants an easier way to shape and make "afterthought" fit adjustments.
You're a hand knitter with sewing skills searching for a quicker, yet fulfilling, way to make handmade sweaters. And you're ready to lose your fear of steeking!
If you fit any of these descriptions, then How to Cut and Sew a Sweater is just right for you! Keep scrolling to learn about your instructor, the course curriculum, and what current students are saying, or...
Your Instructor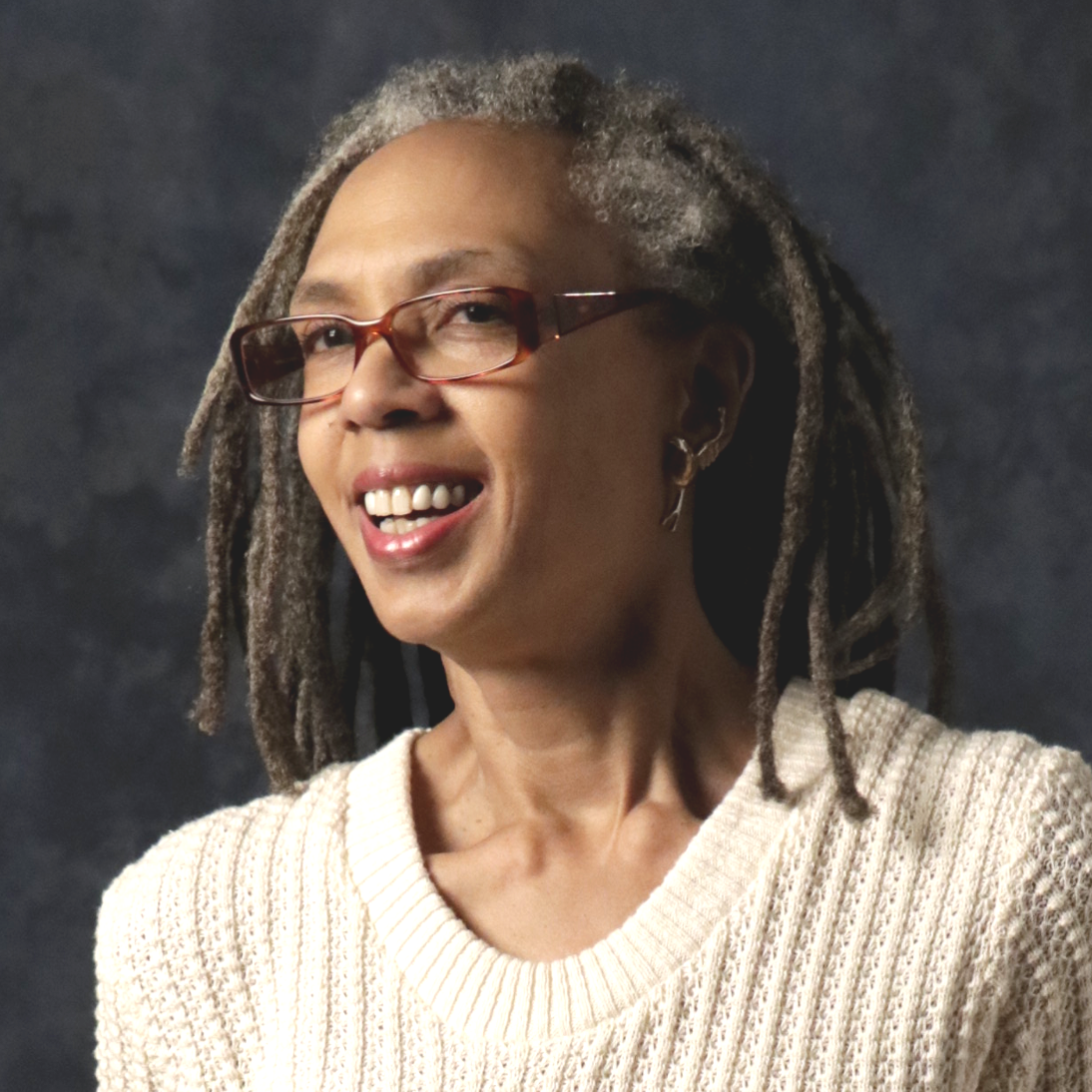 Hello! I'm Olgalyn Jolly, a knit designer, living and working in New York City. I'm the person behind O! Jolly! and craftingfashion.com . I help design professionals, students, and hobbyists deepen their understanding of machine knitting and sweater knits. My specialty is taking machine knitting's complexities and breaking them down into readily understandable, core concepts.
My years in the fashion industry range from leading my own knitwear line to production work to developing stitch designs for leading fashion companies and retailers. I've taught knitwear design and machine knitting as adjunct faculty at the Fashion Institute of Technology and Parsons School of Design and had the pleasure of teaching or presenting at the Textile Arts Center, Vogue Knitting, Mid Atlantic Fiber Association, and the American Sewing Guild.

I absolutely love helping people of all ages and skill levels learn the intricacies and the joy of working with sweater knits. Let's make sweaters together!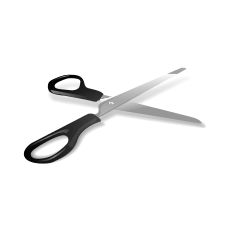 "So excited to learn some new techniques in a visual way! The videos are crisp and clean and direct. The terminology is inclusive and builds confidence. I am a self-taught sewist and am thrilled to be gaining inside information about working with knits. I have learned new techniques in constructing a sweater, which I will be using in my future makes."
- Anne Whalley, annewhalley.com
How to Cut and Sew a Sweater student
The Course
Getting Ready to Sew Your Sweater
Available in days
days after you enroll
The Sweaters We Make
Available in days
days after you enroll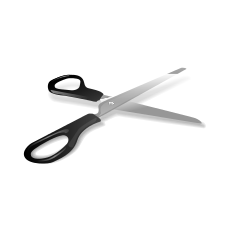 "I'm loving this course. I appreciate the clear, easy-to-follow instructions and the wealth of information. "Determining the Finished Measurements" in lesson 4 is the video I've been waiting for in terms of starting to fit the sweater. Knowing what measurements to take and what lines to draw on the pattern is invaluable for me. I know this is one I will use again and again, along with the downloadable files."
- Jeffifer Shoemaker
How to Cut and Sew a Sweater student
Frequently Asked Questions
What equipment do I need? Do I need a serger (overlocker)?
We'll be using standard tools that you probably already have on hand or are easily acquired. A serger is not necessary, as there will be alternative ways of seaming and finishing seam allowances cleanly. You'll be given a complete downloadable list of the tools you need. Some of these are optional.
What if I get stuck?
There is a place to ask questions and post pictures in each of the lessons. Workshop participants can share their successes and show off their makes.
How advanced are the lessons?
"How to Cut and Sew a Sweater" assumes basic sewing skills and assumes you are comfortable with your machine(s). You should be familiar with changing the settings on your sewing machine and on your serger (overlocker), if you choose to use one. If you've already completed several styles of sweaters that fit well and that you're totally pleased with, then this course may be too basic for you.
What if I am unhappy with the course?
I would never want you to be unhappy with your purchase of this course and so I've introduced the Happy Sweater Guarantee. If you think you'll never be able to complete a sweater that you're happy with after practicing the lessons in this workshop, email me in the first 30 days (Yes, you have thirty days to practice!) and I will give you a full refund.
Will I be able to start a business and sell the sweaters I make after taking this course?
This course is designed specifically for the home sewing enthusiast. Most homes are not equipped with the machines and equipment used in the garment industry. The skills learned in this workshop will be perfect for making sweaters for yourself, your family, and as gifts. Though these skills could be appropriate for a small, handmade business, they are not the specific methods and systems used in medium- or large-scale cut and sew production. In this course I teach a method of working with sweater knits that, with practice, will yield a well made sweater to fit an individual.
Isn't this information available elsewhere online and for free?
If you were to search the internet, you'd be able to find a few free tips and tutorials on working with sweater knits, some of them available on my own O! Jolly! Crafting Fashion blog. How to Cut and Sew a Sweater, however, is a comprehensive approach to making a sweater. You'll learn how to evaluate the properties of your fabric, then learn to work with these properties to confidently cut, fit, and sew your sweater.
Are the classes downloadable?
PDF worksheets, outlines, and lists are all downloadable. Videos stream via the course platform. All materials are always available for viewing.
What will the project be?
The project for this course will be a pullover sweater with set-in sleeves. Students can choose from a short list of pullover patterns. The focus is on learning and practicing new skills. We won't be following the particular pattern's instructions. Instead, we'll be using my step-by-step approach to construct a sweater.
How long do I have access to this course?
After enrolling, you can immediately begin the course. This is not a membership site, so there's no monthly fee. You have access to this course for the life of this product. You'll be able to learn at your own pace and review any section at any time for as long as you like -- across any and all devices you own. Feel free to go back and use these lessons as your guide, whenever you need them.
Will I learn to design on a knitting machine in this course?
No. How to Cut and Sew a Sweater is not a design course and does not require a knitting machine. It's a specialized sewing course. It teaches one method of cutting sweater fabrics and several special sewing skills. Since you are able to mix and match the two main edge finishing methods that I teach, you can significantly modify the design of the pattern you're using, as well as the fit.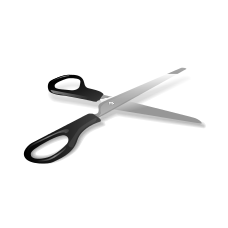 "This will be an excellent course for anyone that wants to learn the construction techniques for sweater knits."
- Judy Kski
How to Cut and Sew a Sweater student