How to Cut and Sew a Sweater
Learn the techniques to cut, fit, and sew your beautiful sweater
Registration for the course is currently closed. Please join our wait list to be among the first to know when registration opens again.
If you're a sewing enthusiast who's admired the beauty and texture of sweater knit fabrics but didn't quite know how to work with them, then my online workshop and video series are for you. I teach the foundation techniques for working with this stretchy and sometimes challenging fabric. Garment industry methods are translated and reworked for your home sewing environment. Step by step you'll learn the ins and outs of working with sweater knits.
Hello! I'm Olgalyn Jolly, a knit designer, living and working in New York City. I'm the person behind O! Jolly! and craftingfashion.com. After fashion and textile studies at Parsons School of Design and the Fashion Institute of Technology (FIT), I gained years of experience in the fashion industry leading my own knitwear line and developing knit stitch designs for leading fashion companies and retailers. Currently, I produce a line of luxurious sweater knit fabrics, and I teach Introduction to Knitwear Design to fashion design majors at FIT. I absolutely love teaching people of all ages and skill levels the intricacies and the joy of working with sweater knits. Let's sew sweaters together!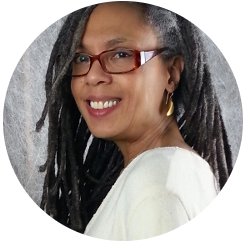 Olgalyn Jolly, Sweater Sewing Guide